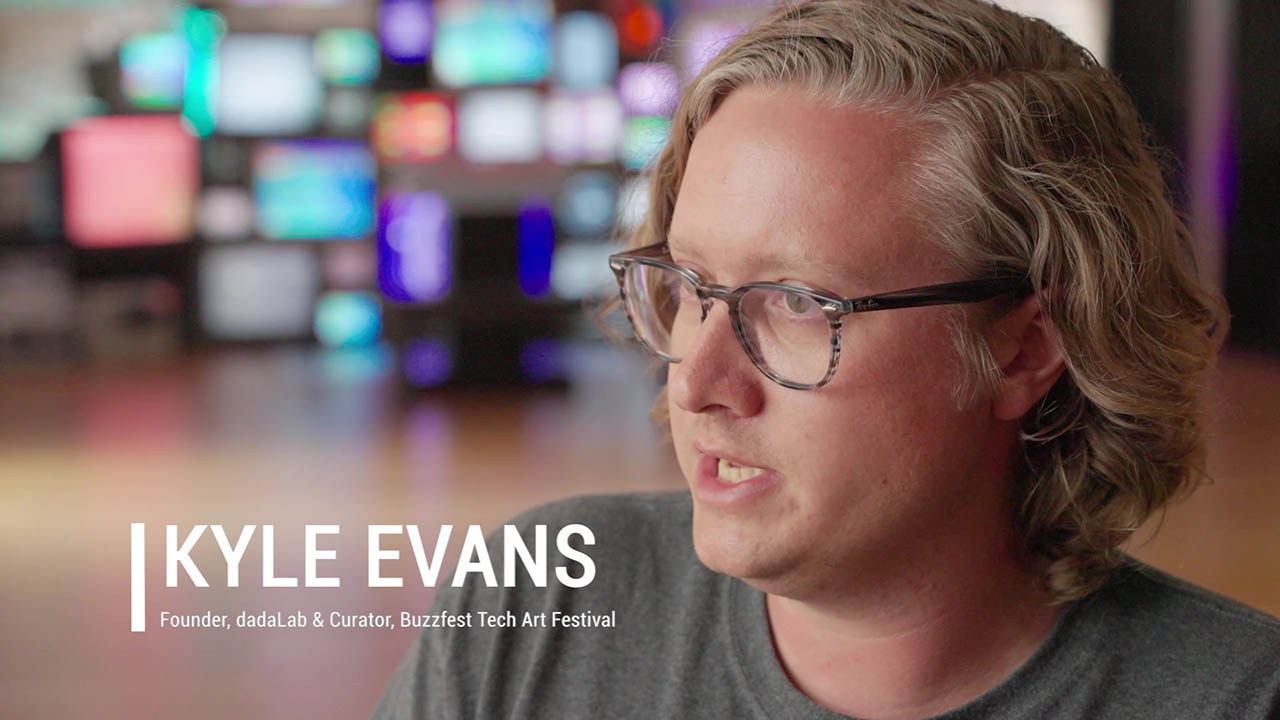 Nelda Studios sponsored the Bee Cave BUZZFEST 2022! This award-winning tech-art street festival brings crowds to Austin's Hill Country Galleria with edgy immersive light and sound art installations alongside performances from nationally acclaimed electronic music artists. The annual March event is the brainchild of Deby Childress, Director of the Bee Cave Arts Foundation. The group organizes the event, and recruits artists and performers, both locally and nationally. The creative elements are all curated by tech artists Kyle Evans and Barna Kantor, co-founders of dadaLab, a collaborative community of designers, technologists, futurists, and creative entrepreneurs. dadaLab's ambitious and provocative approach merges culture, technology, creativity, and education—a perfect fit for the hip and community-minded Buzzfest.
Kyle Evans is a new media artist, sound designer, educator, and performer. Focusing on the intersection of art and technology, his work commonly explores concepts of hacking, technological failure, and media artifacts. He has produced and presented a wide range of tech-art performance and new media installation work throughout North America and Europe at venues such as MUTEK San Francisco, Transmediale in Berlin, the International Computer Music Conference at Columbia University, the Dallas Museum of Art, the Blanton Museum of Art in Austin, the Vancouver New Music Festival, and the Currents New Media Festival in Santa Fe. He is a founding board member and instructor at the nonprofit institution dadaGeek, board member and composer of the art collective Rolling Ryot, and creator of the tech-art event curation organization CounterVolt. in 2019 he co-founded dadaLab with Barna Kantor to produce immersive, experiential art environments. He is currently an active artist and instructor in the Department of Arts and Entertainment Technologies at the University of Texas in Austin, TX.
Barna Kantor was born in Hungary, received a sociology degree in Budapest, and worked in England and France. He is a graduate of Studio Art, Transmedia at UT Austin, the city where he lived for over 25 years. He was artistic director in media education organizations, programmed a micro-cinema, taught at several universities, and worked on a number of public art projects. He is mainly interested in temporary and permanent place-making – defined as "lending meaning to combined physical and virtual spaces." In 2016 he co-founded dadaGeek, Austin's School for Expressive Technology with Lisa Woods. In 2018 he co-founded Rolling Ryot to produce and showcase spatial sound works, and in 2019 he co-founded dadaLab with Kyle Evans to create and promote large-scale experiential art environments.
The 2022 Bee Cave BuzzFest showcased huge art and sound installations with video art projections, immersive multichannel sound, original electronic music compositions, and choreographed performances featuring light-reactive props and costumes. It was awesome!